THE MOST IMPORTANT MEAL OF THE DAY

We serve a delicious breakfast buffet each morning in our bright and inviting breakfast room. We emphasize on quality products and serve a wide range of fresh produce.


Every day we have freshly baked organic bread delivered from Royal Court Supplier - Trianon. Our breakfast provides you with an energy boost - do not forget the freshly brewed coffee and great selection of tea.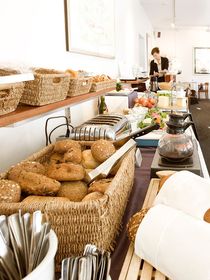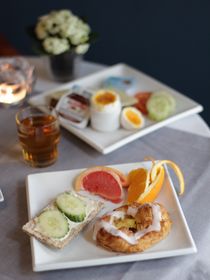 BREAKFAST BUFFET SELECTION:
| | |
| --- | --- |
| Freshly baked rolls | Müesli, Cornflakes & Oats |
| Danish rye bread | Plain & strawberry yoghurt |
| Cheese & butter | Fruits & vegetables |
| Croissants | Soft boiled eggs |
| Various cold cuts of meat | Danish Pastry |
| Various fruit marmelades | Orange & apple juice |
| Honey & Nutella | Coffee, tea and hot cocoa |
SEE WHAT OUR GUESTS WRITE ABOUT OUR BREAKFAST