Hotel Christian IV has the ideal location for your stay in Denmark's beautiful capital Copenhagen. We are only a stone's throw from the scenic King's Garden, which surrounds Rosenborg Castle. Just five minutes' walk away is iconic Nyhavn and its wealth of lively restaurants.
The hotel is close to public transportation; commuter trains, metro and buses are all within a few minutes walk.
Within ten minutes walking you can reach Amalienborg castle, Noerreport and the shopping area around Stroeget. We are located just a few hundred meters from the museums and attractions such as David's collection, the National Gallery of Denmark, Christiansborg Palace and the Marble Church.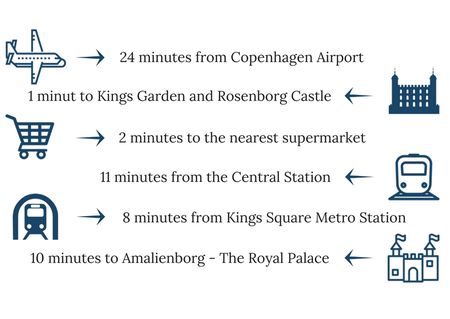 TRANSPORT INFORMATION
Hotel Christian IV's central location makes it easy to use public transportation to and from the hotel. Less than a 10-minute walk from the hotel you will find Kongens Nytorv and Norreport; hubs for both the metro, buses, commuter trains and regional trains.
The Metro at Kongens Nytorv goes towards the CPH airport, Vestamager or Vanløse.
Regional trains from Nørreport goes to North Zealand, Malmo, Funen and Jutland.
Bus lines also cross both Nørreport and Kongens Nytorv. From the Central Station bus lines 1A and 26 stops at Store Kongensgade - only a short walk to the front door.
We recommend visiting Rejseplanen to plan the trip and to read the Information about tickets.
PARKING AT THE HOTEL
Are you planning to arrive by car? It is either possible to park in the streets surrounding the hotel or in the Onepark parking garage close to the hotel.


Prices for parking in the street are as follows:
Weekdays from 08-18: DKK 19/hour, from 18-23: DKK 13/hour, from 23 to 08: DKK 5/hour.
Saturday from 00-08: DKK 5/hour, 08-17: 19 DKK/hour after 17: free. Sundays and holidays: free.


We have an agreement with ONEPARK Garage, which is located less than 100m from the hotel. We offer tickets with more than 50% discount. The tickets are valid for 24 hours and can be purchased at the hotel for DKK 290,- (normal price DKK 500,-). Collect your ticket upon arrival at the hotel.
We also sell special evening tickets that are only valid between 5 pm and 9 am the following morning. The evening tickets have a price of DKK 160,-.
Click on the image below to download our parking guide to OnePark.


SEE OUR INTERACTIVE MAP OF SIGHTS AND TRANSPORTATION IN COPENHAGEN CLOSE TO OUR LOCATION
SEE WHAT OUR FORMER GUESTS WRITE ABOUT OUR LOCATION