It has to be cheapest to book your stay directly with us. If you book directly through this website we promise that you will get the absolute best prices.

We are so certain of it that if you contrary to our expectation find a cheaper price for our rooms on another webpage, we will match that price and give you a voucher of DKK 200,- as a thank you.
Please contact us before you go ahead and submit your booking.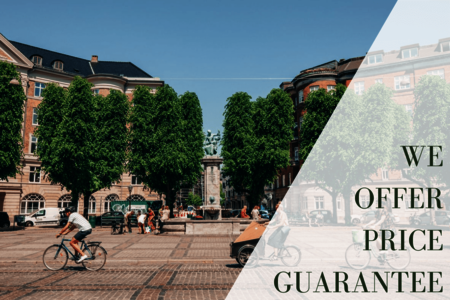 Photo credit: Astrid Maria Rasmussen, Copenhagen Media Center
THE PROCEDURE IS STRAIGHT FORWARD:
1) You believe to have found a cheaper price on another webpage.
Your comparison has to be between to comparable bookings. Room type, number of guests, arrival date, length of stay and the cancellation terms has to be the same as well. The price is the total price, i.e. including VAT, taxes and fees. At some webpages they do not include this until the last step of the booking/payment.
2) You document the difference
Send us a screenshot of the webpage where the following information is clearly stated: web-address, date of search, room type, arrival date, departure date, included amenities and eventual restrictions, such as non-refundable. Send your documentation to: info@hotelchristianiv.dk.
When we have received your request we will go through the details. We will get back to you as fast as possible whether the price is comparable or not. Our bookingteam is ready every weekday - Monday through Friday from 8 am to 6 pm.
4) We match the price and issue a voucher worth DKK 200,-
We reserve your stay with us at a matching price and when you arrive we will have a voucher ready for you. You can use the voucher on extra frills, such as: drinks at the bar, room upgrade or bike rental.
- The price guarantee includes all official available online prices.
- The price has to be bookable, i.e. the reservation must be able to be completed.
- The price comparison has to be in Danish kroner and at the official exchange rate on the day when you contact us.
- The voucher cannot be exchanged for cash
- Hotel Christian IV does not take the responsibility for any eventual fees there might occur when cancelling a reservation made on another webpage.
NB: If you are in doubt whether your request will fulfil the conditions, you are always welcome to ask us. Send us an e-mail at: info@hotelchristianiv.dk